Beta TCP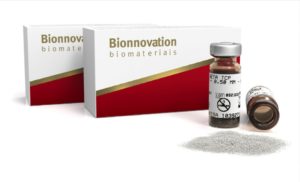 Description
Pure phase Beta tricalcium phosphate (ß-TCP) (Ca3(PO4)2) is a resorbable synthetic particulate ceramic made from Calcium Hydroxide (Ca(OH)2), Phosphoric Acid (H3PO4), with the proportion of Ca3(PO4)2 being 91.67% according to the X-Ray Diffraction test. It is used as matrix for bone tissue neoformation because, in terms of composition, it is identical to the bone matrix and allows the restoration of this tissue through the osteoconduction process.
Mode of action
The first healing stage promotes the migration of vessels through porosities, followed by the migration of bone forming cells that suffer differentiation through contact with the mineral portion of the bone.
Indications
Beta TCP is a biomaterial used in bone graft procedures, and it is a synthetic bioceramic, elective for regenerative techniques in Periodontics, Implant Dentistry, Orthopedics or medical and dental surgery procedures that require bone neoformation. It can be used in the reconstruction of traumatic or degenerative bone wall defects, sinus floor elevation, periodontal or alveolar bone filling and osteotomies, as well as the site preservation and preparation. In medical procedures, it is used in orthopedics and traumatology cases such as correction of musculoskeletal tumors, spinal chord and cervical spine injuries.
  BIOMATERIALI
  CONTATTI
  SEGUICI SUI SOCIAL