BONEFIL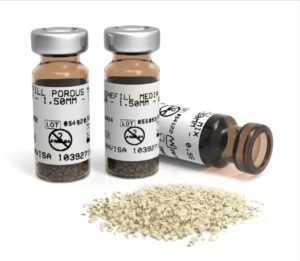 The highly purified osteoconductive mineral structure is produced from natu- ral bone through a multiphase process, complying with the safety regulations established by the control agencies. The fresh bone is crushed, receiving a se- quence of baths that solubilize the organic structures such as, for example, remaining cells, fibers and proteins, with only the mineral portion remaining this way in order to avoid the induction of possible immunogenic processes in the body. The products made of mineralized bovine bone have an expected incorporation of 6 to 9 months.
Due to the natural origin, Bonefill® is comparable to the mineral and morphological structure of the mineralized human bone, it is biocompatible, does not present cytotox- icity, acute systemic toxicity, carcinogenicity and it is not a sensitizing product (ISO 10993-1).
The mineralized inorganic bone matrix of the Bonefill® has a porous macro and micro structure similar to the human cortical and spongy bones. In granu- late form, Bonefill® Dense, Porous & Mix act as osteoconductive mechanism promoting bone growth and regeneration. With time, the Bonefill® is partially remodeled through the action of osteoclasts and osteoblasts, being a viable alternative to autologous bone in defects suitable for its use and indication.
Mode of action
The first healing stage promotes the migration of bone forming cells that suffer differentiation through contact with apatite, the mineral portion of the bone. The process occurs between six and eight months resulting in a high density bone formed around the Bonefill® particles.
Indications
Bonefill® is recommended for filling bone defects and for volumetric in- crease in the following situations: increase/reconstructions of alveolar crests, filling of post-extraction cavities, filling of cavities produced by post-surgery treatment interventions of cysts, granulomas and other lytic, oral and maxillofacial and dental pathologies, preparation of implant and filling sites of bone dehiscence, besides bone grafts in maxillary sinuses and in the periodontal area it can be used in filling bone defects and to support the membrane during guided bone regeneration.
Topography: Porous, Dense & Mix
The surface helps the absorption of proteins in the Bonefill® Porous particles, enabling the efficient adhesion of the osteoblasts. This biological interaction enables a reliable bone formation.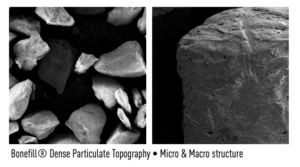 BIOMATERIALI
  CONTATTI
  SEGUICI SUI SOCIAL
Summary of advantages
Preservation of the natural bone structure with improved mechanical properties.

Interconnected pores.

The production process ensures the exclusion of organic components.

There are no immunological reactions;.

Highly hydrophilic surface.